Posted on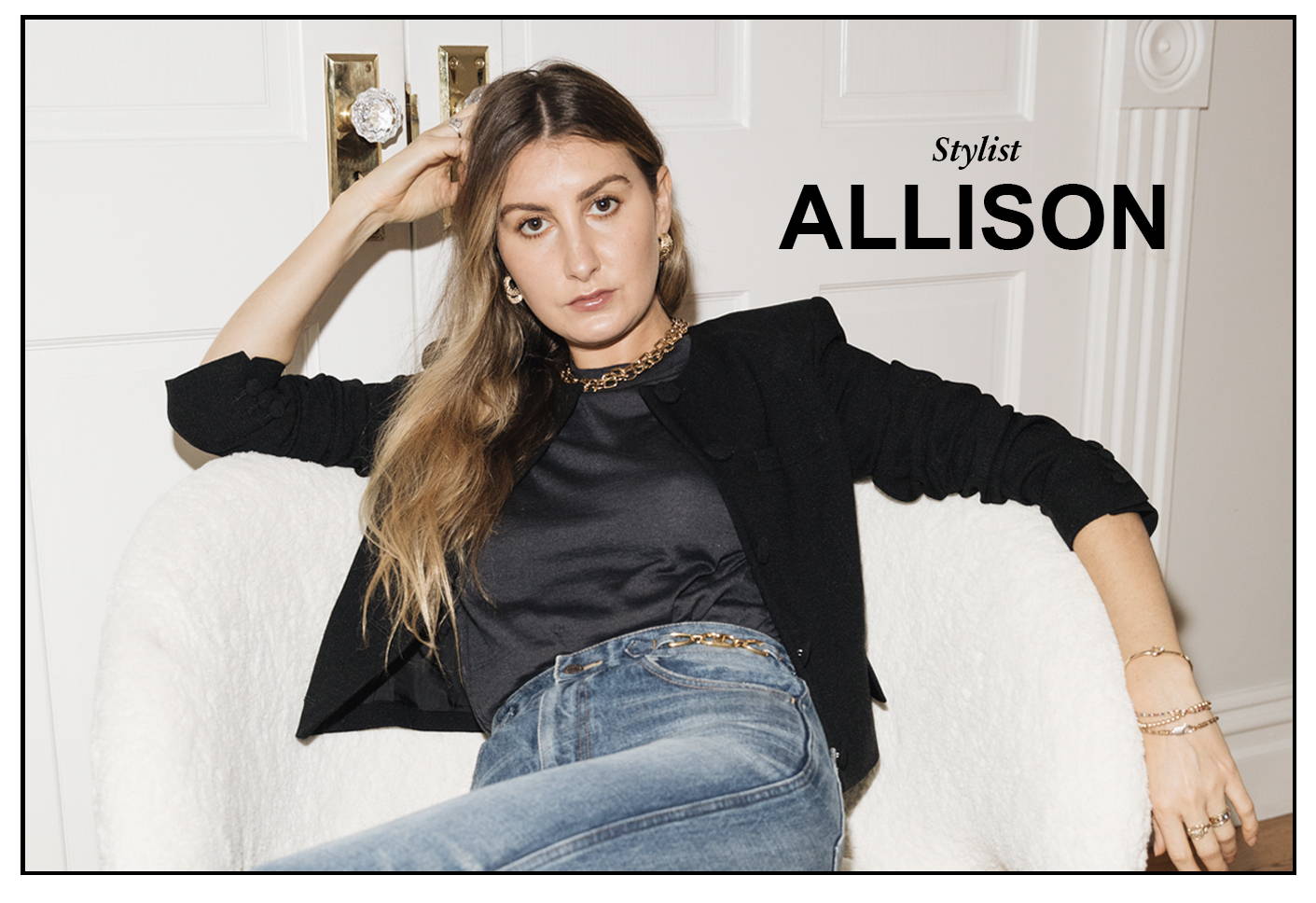 A total vibe, Allison is the woman behind the Katie Holmes street-style craze (hello, off the shoulder sweater meets sweater-bra trend...you know the one). Recently we sat down with this feel-good stylist at her NYC-meets-Paris apartment to chat about all things style and life. With the belief that fashion is wellness, she shares her fascination with dressing for the in-between moments, tips for dressing up over the holidays (because this year is weird, not gonna lie), and the oh-so-romantic story behind her engagement ring.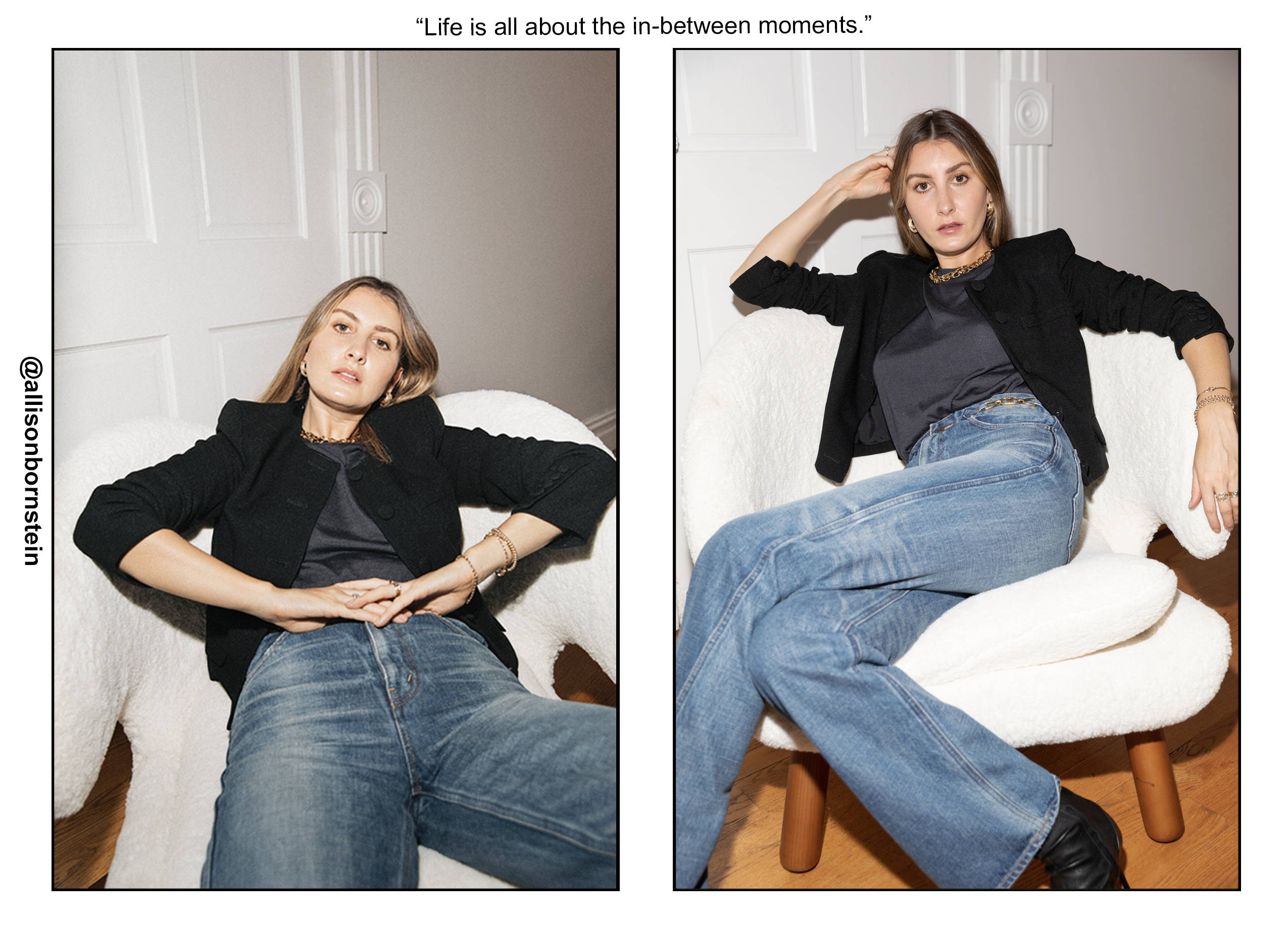 ---
Becoming a stylist?
Initially, I became a stylist in the most traditional sense by assisting major editors and prominent stylists. However, before going out on my own, I took a second to think about what I wanted to say, how I wanted to contribute, and what's truly important when it comes to styling? In short, my style philosophy is that getting dressed should enhance or bring out what you love about yourself, not hide what you don't. Ultimately I think of styling as a wellness tool to feel good about ourselves and comfortable in our skin.
In the past, the world of fashion with a "capital F" made women feel intimidated as there was only room for one type of woman; thankfully, this is evolving. Therefore, I'm less into creating intense fashion looks and more into dressing women for their everyday lives, (the ordinary is you will), not for an event or a photoshoot. Of course, this couldn't be more relevant now!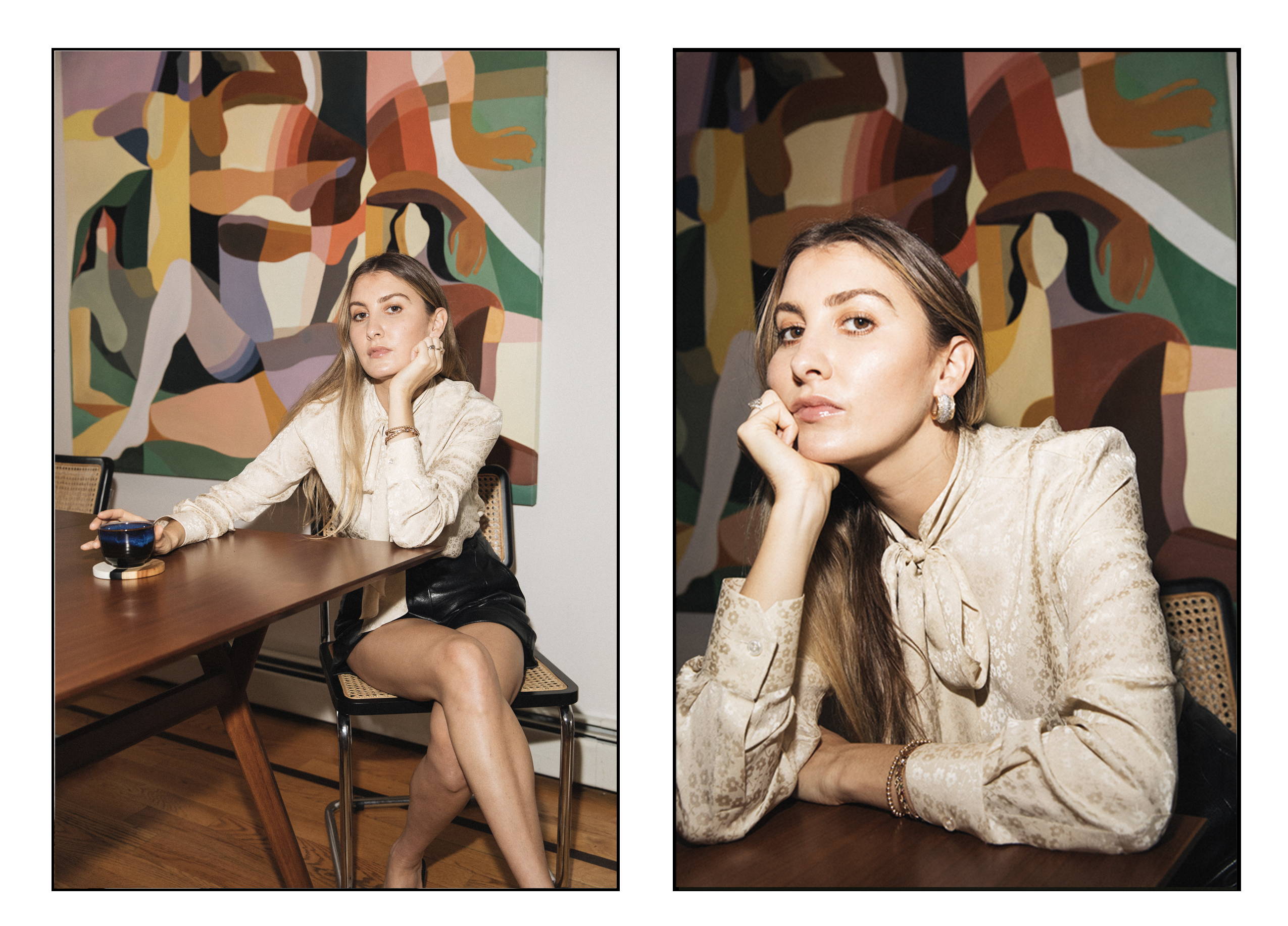 How did you come to this realization?
Back in the day when we would do celebrity styling, I was most inspired when they asked for an "airport look." Creating a vibe for going to and from the car was more exciting than the red carpet. It was all about the in-between moments when these women could show who they are, i.e., casual, cool, and in flats with a coat or bag. I'm drawn to that which is relatable to all women, the grocery store, a restaurant, or walking down the street versus more formal affairs. That's fun, that's real.
---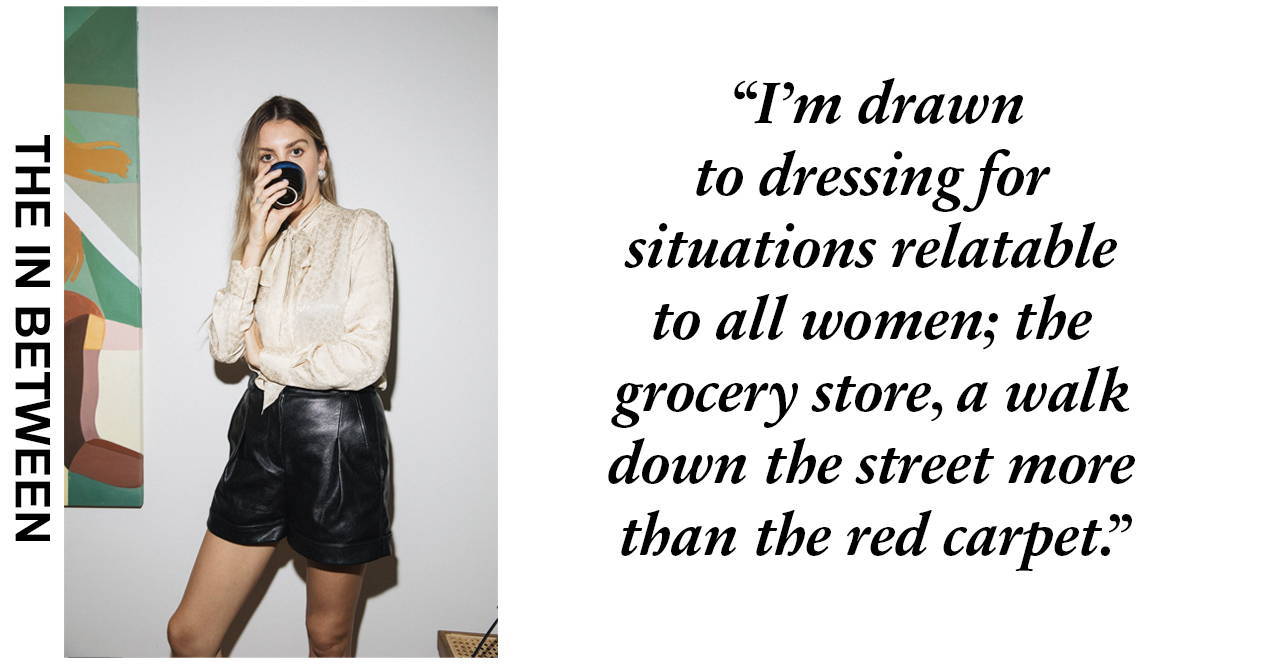 ---
Working throughout Covid?
When the pandemic hit, I wanted to find a way to give back and raise money for charity. I launched a remote styling service wherein I would charge an hourly rate, and $50 per session would go to the NY Food Bank. Through this, I've been exposed to so many phenomenal, real women from everywhere in the world, including Australia, Brussels, New Zealand, Hong Kong, Florida, and Brooklyn and have the opportunity to create wardrobes that make them feel confident in their everyday lives. Truthfully, what you wear has such a significant impact on how you feel, and watching that transformation even within an hour session of each of these women is mind-blowing.
A powerful transformation?
I had this woman today that was given the session by her friends; I could tell she was skeptical from the start. She is a winemaker and essentially farming all day but needed looks to wear to wine tastings and other similar events. While resistant, I had her try everything on from her closet and pair them in ways that she wouldn't typically. By the end, her entire demeanor had shifted, including the way she looked at herself in the mirror.
The fact is, when I look good, I feel good, and all my interactions are better because I feel confident. Fashion is sometimes made to seem frivolous, and it's not. I understand why people don't trust the fashion industry because historically, most have been excluded, but hopefully, it's becoming more inclusive. We all have to get dressed every day, no matter in sweatpants or a gown; therefore, reframing fashion as a way to put your best foot forward is so powerful.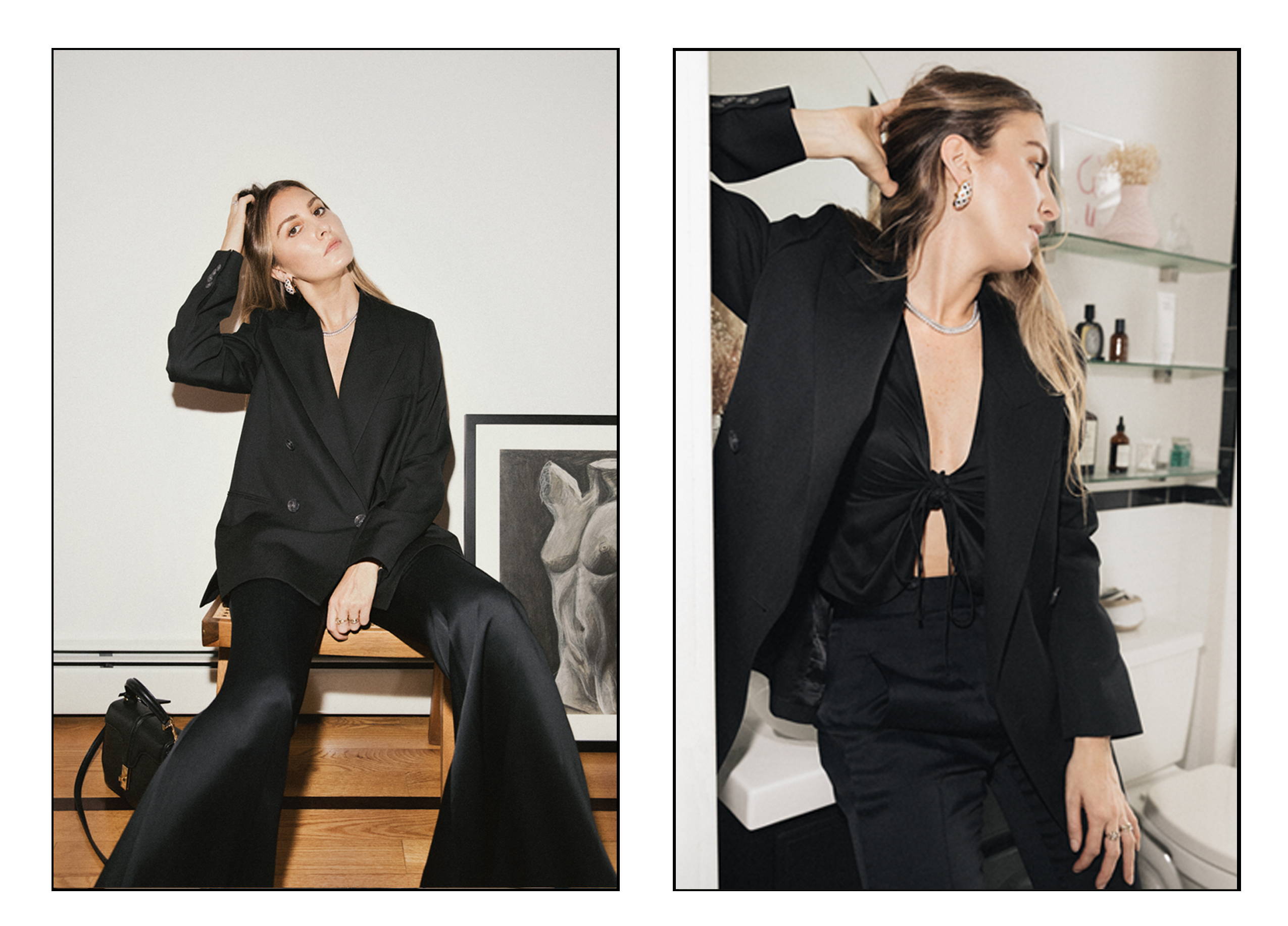 Jewelry and getting dressed these days?
My mom was a collector of exceptional pieces and passed her love of jewelry down to me. I'm a simple dresser, and jewelry, anything from glittery to unique sparkly pieces, is the finishing touch, especially now more than ever. Living this Zoom life, where you don't see the full look, means a cool necklace or fabulous earring worn with a sweatshirt changes everything. Jewelry feels intentional; it's a choice, and wearing it means you chose to make an effort. At the start of lockdown, I told everyone to get a cool chunky necklace, i.e., The Paulette, and wear it with leggings, a tee, or a sweater. It's such an easy thing and will make you feel glamorous and 100 times more put together. Also, with weight gain and weight loss through all of this, a cool pair of earrings is sure to work, no matter what.
Holiday dressing at home?
Add jewelry. Especially if it sparkles. It is so little effort and it makes such an impact! Whether with family or just alone, I think having a necklace or a pair of earrings really makes a huge difference.
Try new things. The stakes are so low at home. If you want to try something new it's a great time! If you want to see how it feels to wear a dress, try one on for the day and see how you feel. If you hate it, just take it off! But why not try.
You're newly engaged, tell us everything about the ring?
I borrowed it for a shoot from this stunning vintage jewelry store, and when I saw it, I just knew. We were both ready to get engaged, but that was the part that was missing in some way. It's an Art Deco, old French style engagement ring with two diamonds, similar in size that cross over each other and symbolize two people coming together called a 'Tu et Moi' ring, which means 'You and Me' in French. It's very special.
He proposed to me at home with this ring and then had a car waiting for us with a surprise trip to Paris! It was magic, and also, this past February, the last time we were able to travel, really.
---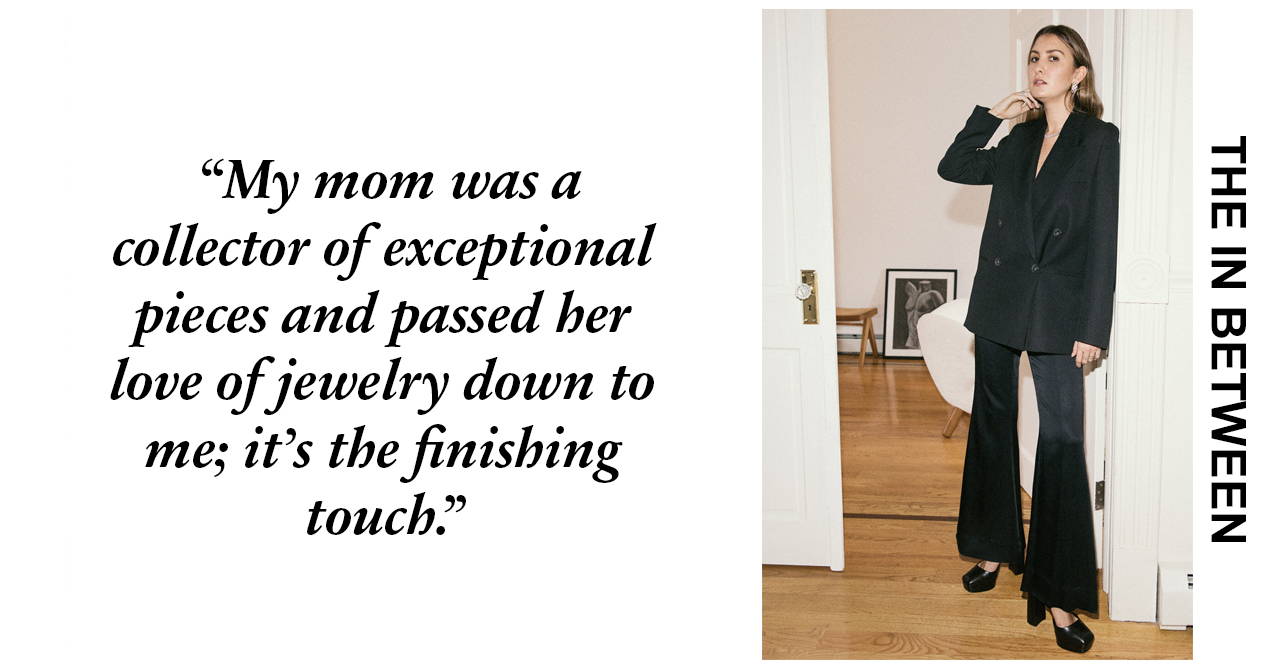 ---
A lesson from your grandmother?
She and my grandpa were high school sweethearts, and she taught me everything when it comes to fashion and love. I was with her a lot as a kid, and she indulged in letting me express myself. She would take me shopping and let me pick out anything I loved, even if it was hideous. I would often choose some crazy, ugly thing, but she encouraged me and made me believe that there was no wrong answer when it comes to fashion. She also loves jewelry and always wore this novel gold chain necklace with an evil eye on it.
One hope?
I hope we can come back together as a country. The day after the election four years ago, I remember crying and feeling so overwhelmed by the uncertainty of it all. At the time, I didn't know how bad he would be, but it just felt off to see that we had a bully leading our country. And now, it feels there will be a nice man and a wonderful woman representing us in office. It feels like America again: optimistic, hopeful, and promising, the way it should be.
A hope for the future?
After dinner, I usually wind down with a good book before bed. Plus, I start my days with a 30-minute virtual training session at 9 am. I love beginning the day this way; it keeps me accountable, especially now that I'm working from home and helps get me started.


Advice?
Trust your instincts when it comes to everything, but mostly fashion. We know what looks good on us and what we like.
---
---

---

---